87% of Americans own a Bible, and many households even have 3-4 copies. We are truly blessed by having ready access to God's Word – in printed form and in audio. However, people in other parts of the world are not so fortunate.
The Joshua Project says more than 1.5 billion people still do not have access to a full Bible in their own heart language. They may be waiting for a Bible translation, or may be part of the 80% of the world's population who live in an oral culture, where information and stories are passed on verbally, and they don't have access to an audio Bible.
This lack of Bibles is referred to as "Bible Poverty." It "…cuts across economic levels, social status, religious identity, ethnic groups, and languages. Bible Poverty affects regions of religious persecution. It affects the non-literate, the deaf, and the blind," says Dr. John Watters, Chair, Forum of Bible Agencies International (2003-2010).
Audio Scripture Ministries (ASM) is fighting Bible Poverty head-on, helping connect people to God's Word in their own heart language by recording and distributing the Bible and Bible engagement resources in audio. We believe that every person has the need—and the right—to hear God's Word.
In 2019, our national teams in Mexico and Mozambique will record the Bible and new Bible engagement resources in 10 languages.
The Mexico team plans to record the New Testament in Tenek, Otomi, Mazateco, Nahuatl, and two different Mixteco languages. In addition, they will record several individual books of the Bible, and audio dub at least one evangelistic film.
In Mozambique, the team will record Bible resources in four languages: completing the Makua Old Testament, and recording Tewe and Tsonga Biblical materials such as Scripture songs, Bible teachings, Bible College courses, Bible-based health teachings, and portions of the Old Testament in the Sena language.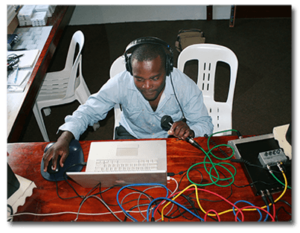 These are projects that can take months to complete, sometimes in difficult conditions. Both regions also plan to distribute several thousand audio Bibles. Would you please be praying for these recording and distribution projects?
ASM is also developing partnerships with national leaders and ministries in other regions to provide reduced-cost or free audio Bibles, so that more people can hear God's Word. By collaborating with carefully-vetted ministries, we're leveraging our resources by helping these ministries effectively share God's Word in audio in new regions. We praise God for these open doors of ministry, and ask for your prayers as we move forward.
In 2018 alone, ASM, in collaboration with more than 120 churches and ministries, was part of distributing audio Bible devices in 56 countries, and four indigenous tribal regions in the U.S. These countries included Bangladesh, Ethiopia, United Arab Emirates, Côte d'Ivoire, Kyrgyzstan, Myanmar, and Cuba.
Our goal is that everyone who wants to hear God's Word will be able to do so. And, we need your help to accelerate the production, and distribution of audio Bibles. Even now people in Mozambique, Mexico, and elsewhere are waiting to receive an audio Bible. Would you prayerfully consider providing a year-end gift to help ASM continue to record and then distribute God's Word into the hands of even more people? Thank you.
Your prayers and financial support of ASM can be a part of eradicating Bible Poverty in our world. Let's work together in 2019 so that no one has to wait to hear the life-giving, life-changing words of the Bible!