(Jim's interview audio starts at 03:01)
Article by Lyndsey Koh at Mission Network News
Southern Mexico (MNN) — First experiences are often exciting to have, and sometimes even more exciting to watch. Think of when you saw a baby take their first steps, or a child perform in their first music recital, or an adult buy their first house. Celebration and joy thrum through the newness of the moment.
Have you ever witnessed someone's first encounter with God before? That moment where it spiritually clicks and the awe of God's Word in all His truth and love and grace washes over them?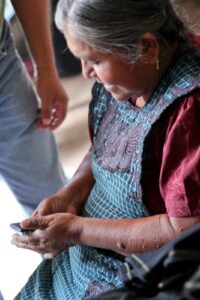 Audio Scripture Ministries is inviting Christian groups and church teams to join them in making that moment possible for people groups in Mexico who have been waiting for the Bible in their heart language. As each new audio translation is made available and put into ASM's audio Bibles, you can join them in sponsoring and giving out God's Word in audio to these people who are hungry to hear Scripture…for the first time in their lives.
Jim Loker, the Latin America Director with ASM, explains, "Part of what [the mission team] would do would be to raise funds to buy audio Bibles, and then they would go with us to villages where we've recently done a recording and they would place those audio Bibles into the hands of the local people."
He says, "We've seen many, many churches from the U.S. just come away from those trips and they're so blessed by the fact that they were able to see the people who have been able to hear the Word of God for the very first time in their language after waiting for the Scriptures to be translated and for the Scriptures to be recorded, and they are there to see people get the Scriptures. Many times, we see people come to faith even during those visits!"
While there will most likely be a language barrier, there are many experiences that transcend language. And Loker says mission teams always end up finding they have more in common than they realized with the communities they interact with in Southern Mexico.
"The people that come with us on trips learn that the needs that the Mexican people have are much like the needs that they have — they have spiritual needs, they have physical needs, they have health needs, they have inter-family problems with husbands that have left or kids that are rebellious. Our churches then will pray for those families and give an audio Bible to this family so they can listen to the Scriptures in their own language. There's a language barrier, sure, but we can translate and then ultimately the people are hearing the Word of God on their audio Bibles, but in their [heart] language."
So? Want to get started, or at least learn more about this incredible missions opportunity to Southern Mexico?
"If people want to go on a mission trip, they can call our office [at] 616-396-5291 and talk to me or leave a message and I'll get back to them," advises Loker. "We can start that process to set a time and look at what it all takes to bring down a team to Southern Mexico."
You can also contact us here.
Loker emphasizes this outreach is unique, in that, "We leave spiritual fruit behind. We don't build buildings, we don't do vacation Bible school, but we leave the Scriptures in the hands of people who are able to use the Scriptures then to study and understand the Word of God."
Even if you can't go on a mission trip with ASM, you can pray for the teams that will go this year and for the communities in Southern Mexico still waiting for God's Word. "Pray for open hearts, pray for those who are being persecuted, pray that God would raise up the funds to provide audio Bibles to all those that need them, and also besides praying, they can contribute to the cause of purchasing more audio Bibles!"
If you'd like to give in support of audio Bibles with ASM, click here!
Original article can be viewed here.