Our 2020 theme verse was:

"Enlarge the place of your tent, stretch your tent curtains wide, do not hold back; lengthen your cords, strengthen your stakes."

Isaiah 54:2 (NIV)
2020—with all of it's twists and turns, disappointments and surprises—wasn't a surprise to God. I praise God that throughout a difficult year, and in the midst of the global pandemic, He used your prayers and support to fulfill this verse, to His honor and glory, through ASM.
God opened unexpected (to us!) ministry doors this year. As we follow Him through these doors of opportunity, God is using your investment in ASM to build relationships and partnerships with national leaders like Sergio, Steve, Oscar, Rosa, Abraham, Isai, Mabel, and many others so that more people will hear His Word.
God has stretched this ministry (and me personally) and deepened and strengthened our dependence on Him in ways we didn't expect, including through a major dip in donations caused by the pandemic. While ASM's funding is still below pre-COVID-19 levels, God has used your prayers and support to close that gap, so that ministry is continuing.
God has enlarged our commitment to serve and equip national pastors and churches in reaching their families and communities with God's Word in audio.
God is also faithfully preparing ASM for expanded ministry opportunities in 2021 and beyond, through some exciting advancements as together we don't hold back in following Him:
Working with national leaders recording and distributing God's Word to an unreached people group of more than 1-million people in South Asia, and to a group of nearly 500,000 in Central Africa who need to hear about Jesus in their own language.

Partnering with RCA Global Mission and many churches and other ministries to fill a 40-foot shipping container with audio Bibles, agriculture equipment, and medical supplies in support of Chad and Dara Vanden Bosch's ministry in Mozambique.

Helping listeners to God's Word in audio to better access, understand, and apply Scripture, through a new Scripture Engagement Director joining the ASM Team.

Serving national leaders by providing audio recording training and equipping for their own Bible-based audio recordings through our Resource Department.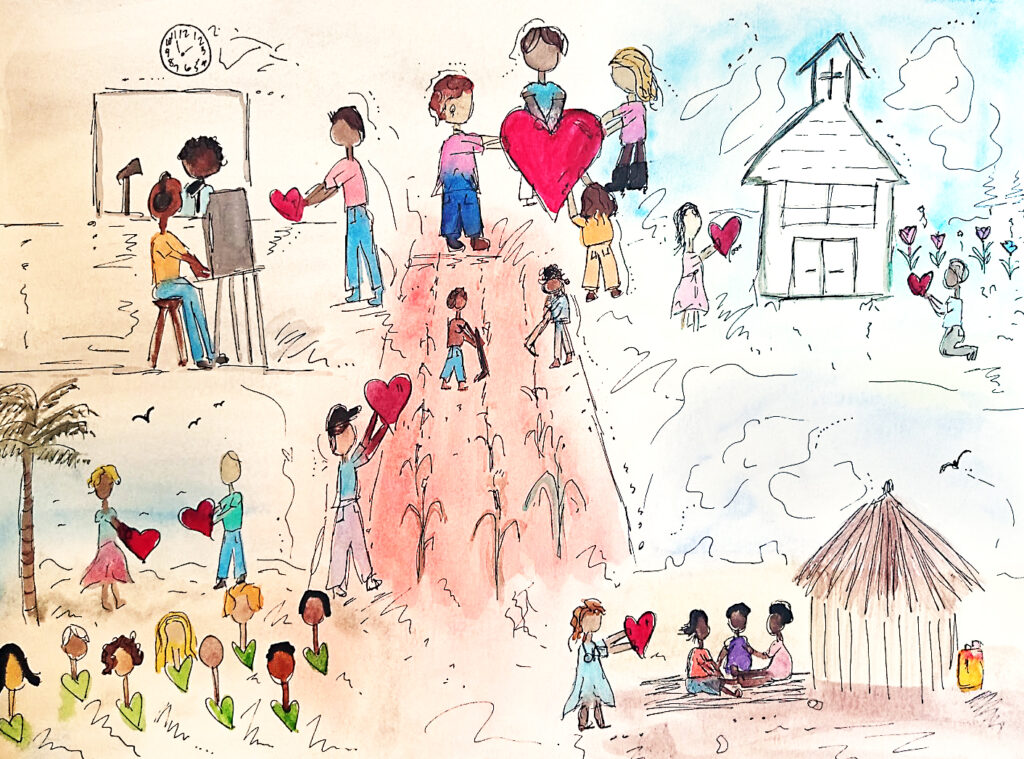 Your investment in ASM is allowing our teams to pour God's love deeply and sacrificially into the lives of Christian pastors and leaders, medical personnel and their patients, and families and communities in remote locations, some made even more remote because of the pandemic. Dara Vanden Bosch, ASM's Compassionate Care Coordinator in Mozambique, drew the picture that you see here. It's a beautiful visual representation of how your investment is sharing God's love and His Word in so many ways and places.
It's my prayer that you'll be encouraged by this report, as we share how God is building on that investment worldwide, from Latin America to Africa and from Asia to North America.
Thank you again for your investment in ASM, and may God bless you and your family with the abundant joy of His presence!