Photo by Josh Hild on Unsplash
"Enlarge the place of your tent, stretch your tent curtains wide, do not hold back; lengthen your cords, strengthen your stakes."

Isaiah 54:2
My family did a lot of camping when I was a child. To this day, I don't know how my parents managed to make trips seem so effortless and fun, even when we squabbled as children, or bad weather cut vacations short. Camping brought important less-ons of working together, pitching the right size tent, adjusting tent cords for wind and weather, and driving tent stakes deep into the ground for stabilization. Let's just say collapsed tents are great learning experiences!
Like many of you, I ask the Lord to graciously provide a Bible verse to help set the tone for each new year. Isaiah 54:2 was the result for 2020.
Together, our team wrote the verse on a whiteboard, prayed and discussed together what it would look like for us to intentionally live that verse. My heart leapt with excitement as I anticipated how God was going to use ASM for His honor and glory connecting more people to His Word in their own heart language.
Then came the COVID-19 pandemic.
Enlarge…Stretch Wide…Don't Hold Back…Lengthen…Strengthen…
In light of COVID-19, the words of Isaiah 54:2 seemed to almost mock "my" 2020 Strategic Plan (I confess with chagrin). A global pandemic, closed country borders, flagging donations, short-term mission trips canceled, and general uncertainty about the future … surely I'd mis-heard. Right?
I don't think so. God has done SO MUCH MORE in ways I hadn't anticipated at the beginning of the year.
2020 has been unexpected. Globally, lives have been cut short; political and social unrest continue; economic and unemployment issues impact many; churches and believers struggle in this new normal. Grief, uncertainty, and fear have become constant companions for many.
Yet, increased uncertainty has brought increased spiritual hunger. We praise God that this uncertainty is leading people to crave the solid truth of His Word in previously closed areas in Northern Mozambique, India, Mexico, and elsewhere.
Through this lens, together we echo the words of the Apostle Paul in Ephesians 6:20-21 praising and glorifying God: "Now to Him who is able to do exceedingly abundantly above all that we ask or think, according to the power that works in us, to Him be glory in the church by Christ Jesus to all generations, forever and ever. Amen", (NKJV, emphasis mine).
God has ENLARGED prayer support for ASM through regular Family Prayer Gatherings, connecting people via video from Mozambique to Mexico. Faithful prayer warriors have prayed for you, for pastors and local churches, for a vaccine for the virus, for missional tasks before us, and for global recording and distribution projects.
God has STRETCHED WIDE opportunities to share His Word in audio, opening unexpected doors in local care homes, in West Michigan blueberry fields, and in regions previously hostile to the Gospel. Closed doors have become opened wide as people seek comfort and hope in the Lord.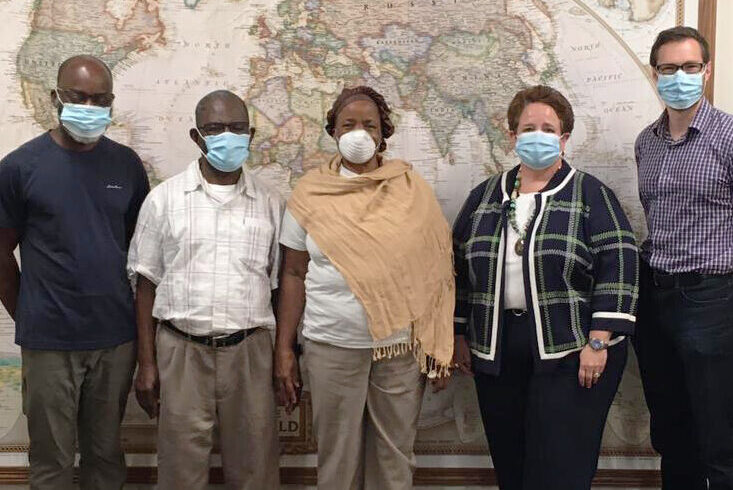 God has told us DON'T HOLD BACK in developing partnerships with national leaders in new regions that need to hear His Word. These partnerships are producing what we pray will be long-term collaboration for audio Bibles to be shared further on the continent of Africa, and in Central and South Asia, including to a major unreached people group.
God has LENGTHENED ASM's tent cords, increasing our flexibility as we seek to catch and move with the wind of His Holy Spirit.
God has STRENGTHENED and deepened our trust in Him as He's used you to provide financial provision. Donations to ASM were down by almost 50% in March and April—and YOU responded. We praise God for you and your financial investment, helping strengthen people's trust and hope in God through hearing and applying His living Word. (Give hope today by donating securely online at www.audioscripture.org/give.)
Hard to believe, but 2020 will soon be a memory. In these final months of the year, let's not hold back—and instead respond together to God's call to share the Gospel Good News with those who need to hear it!