Article by Lyndsey Koh at Mission Network News
In all the tangled mess of the war in Syria, Kurdish forces are also part of the fray. The Kurds, a minority stateless group of people, have helped push back ISIS militants in northern Syria ever since the terrorists targeted major Kurdish populations.
Kurdish soldiers have continued to engage ISIS along the Euphrates River and in key cities such as Aleppo. Since they have to keep a low profile at night, the Kurd forces needed small flashlights to see as they cook meals. What they got were flashlights… built into audio Bibles.
Audio Scripture Ministries' JP Sundararajan says a Christian travelling toSyria recently contacted their ministry about their audio Bible players for this purpose.
"We have a representative out in Oregon named Don who handed us this amazing story of how he had been connected with an organization called the Free Burma Rangers who are a humanitarian organization that works in pretty high-conflict zones. Through a series of providential meetings, God enabled us to send about 50 of our audio Bibles in the Arabic and Kurdish languages to the frontlines, really, of Syria where soldiers who are battling ISIS were able to secure them."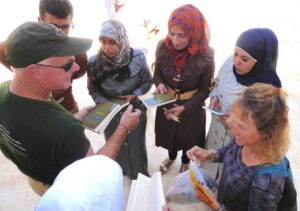 Sundararajan says, "One of the cool things we heard was the Bibles were immediately gone. I mean, 50 Bibles are, needless to say, a drop in the bucket. But the stories that unfold and the photos that came from it were pretty cool."
Some audio Bibles were also distributed to children in an orphanage in Menbij, a town recently freed from ISIS.
The Kurdish population only makes up around seven to ten percent of the Syrian population, according to the BBC. But their hope while fighting ISIS in Syria is perhaps they could gain autonomy and a recognition of Kurdish rights when the war is over.
Now, with these audio Bibles, God's Word is literally on the frontlines with them as they fight for freedom against terror.
"I can only imagine what they are feeling as they battle this terror group. But then, to have the comfort of God's Word in their heart language was beautiful."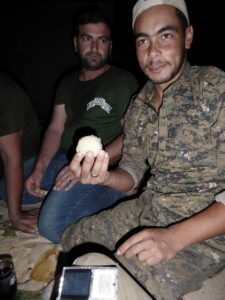 We also spoke with ASM's Taylor Ely, and she says they hope to continuesending audio Bibles into the Middle East since the door is open.
"I actually had a chance to talk with someone named Jason, who is friends with our representative. It's been a really cool series of connections, because we as a ministry have been praying for open doors in the Middle East to get audio Bibles in so more people can come to know Christ. So going forward, I'll be connecting more with Jason who works with the Free Burma Rangers."
Since the players were brought over with the primary appeal of having flashlights, it's possible that many of the Kurdish soldiers didn't know Christ before. Now, they can literally have a light unto their feet while they hear about the Light of Christ sent down to earth during Advent.
So what about you? Do you know a group of people who could use God's Word in audio? Are you going on a mission trip soon? If so, ASM's JP Sundararajan says they want to send their audio Bible players with you!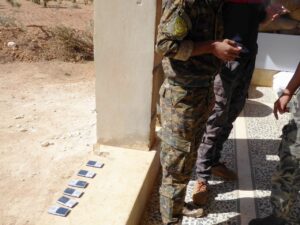 You can contact Audio Scripture Ministries by calling 616-396-5291, or by visiting their contact page here.
"People can be praying for and thinking about….your churches, your own lives and where your heart and passions are and finding out how we as an organization can come alongside you in your own mission."
Ely also adds how you can pray:
"I think a key way listeners can be praying is honestly to just continue to pray for more strategic contacts. This story was just a really huge way for us a ministry to be reminded that God is the one who makes the connections, and He makes connections we can't even make for ourselves…. So I think praying that God would continue to provide those contacts overseas, but also here as well. We need people here in the United States who are willing and available to be used here, to understand the need for audio Bibles, but also people just passionate about God's Word and passionate about living out the Gospel here."