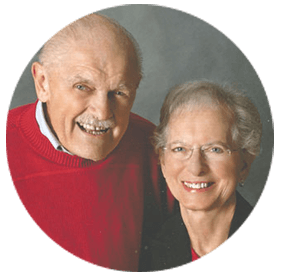 From Alice Beery, ASM Co-founder
Serving with ASM since 1967
How and why did you get involved with ASM?
"Well, it turns out it was at the very beginning! 1967. God has asked my husband Ron a question that essentially launched him on a completely different career that ipso facto involved me, too."
Has ASM remained true to founder Dr. Ron Beery's vision?
"Ron, I think, would have been quick to say that the vision wasn't his, it was God's. God was simply offering Ron the privilege of being involved in His work. Often in his presentations about PRM/ASM through the years Ron shared Psalm 67:1-2:
'May God be gracious to us and bless us and make his face to shine upon us,
that your way may be known upon earth, your saving power among all nations.'
Making God's way known upon earth is what ASM continues doing as they share God's living Word with the nations!"
What impact do audio Bibles have on the recipients?
"Others could probably answer that question better than I, but I know what God's Word means to me. It tells me about God's love, about His forgiveness, about His being ever present with His people, about His help in all the experiences of life, and about a forever life with Him. To hear all that, and more, about God through audio Bibles –maybe even for the very first time- must bring unimaginable joy and freedom to those hearers!"
What do you believe the future holds in the "next 50 years"?
"Who could have predicted at its beginnings where ASM would be now in its ministry! I love what Isaiah 64:3-4 (NRSV) has to say about God.
'When you did awesome deeds that we did not expect, you came down, the mountains quaked at your presence.
From ages past no one has heard, no ear perceived, no eye has seen any God besides you, who works for those who wait for Him.'
Our God is the God of the unexpected! His signature action is what "we did not expect." Our job is to excitedly wait for him and watch him at work as we serve together in ASM's ministry in the next 50 years! What will god be up to next?"
What message would you have for ASM supporters about this ministry?
"My message is 'THANK YOU!' No action is insignificant in God's sight as it is done in His name and for His glory. Each of you is needed and valued as we serve in ASM's ministry together. We thank God for you!"