Prepare the soil, plant the seeds, bring in the harvest. It might sound simple, but being without access to tools and updated agricultural methods means many obstacles to a successful crop, even before the devastating cyclones earlier this year in Mozambique. In the Mozambican communities where ASM teams serve, many rely on subsistence farming for their food, too often barely eking out a living.
In July, ASM Africa Director Chad Vanden Bosch led the public kick-off event for New Harvest Farm. We praise God that it was well received by those in the community! One man attending said, "If we are able to have access to this [technology and training], it could transform our farms." Then the community leader spoke up: "This could transform our entire community."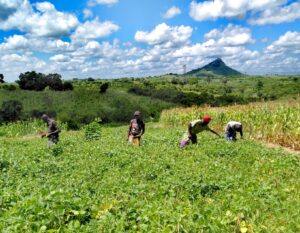 The team is excited for the open doors this program is already bringing to share the Gospel and distribute God's Word, while also addressing food security in the community, which is especially urgent in the wake of Cyclone Idai.
ASM had made plans to send a 20 ft shipping container with a small tractor and agricultural tools, medical supplies, and audio Bibles for ministry use. However, thanks to the amazing response of generous donors and partners, we were able to expand to a 40 ft shipping container, and send additional audio Bibles and other items that will impact ministry work for years to come! We praise God for His provision, and for the volunteers helping coordinate this project. Would you pray for the container to arrive on time for Mozambique's October planting season?
Watch the video to see an interview with Chad and Dara Vanden Bosch and take a virtual tour of the New Harvest Farm grounds!
Learn more about New Harvest Farm and the container project here: www.audioscripture.org/mz-container