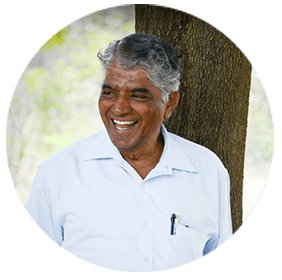 From Sundara Rajan, WCOI Founder 
Serving with ASM since 1979
How and why did you get involved with ASM?
"I came to know the Lord Jesus Christ in my college days. On 14th December 1968, I accepted Jesus Christ as my Lord and Saviour. My father, being a Communist, was not happy about my conversion. He disowned me and had thrown me out of his home. I came out and was working as an evangelist. In the year 1970, I went into a small village to distribute tracts to the people. I met a rich man who was sitting on his motor cycle and I tried to give a tract in his hands. But he refused to accept it. I encouraged him to read it as it contained good news for every mankind. Then he told me that he couldn't read or write. From that day I started to pray and asking the Lord to show me a way to reach the non literates and visually challenged people. After 10 years of prayer, the Lord enabled me to start the ministry through audio cassettes. In the year 1978 I met Dr. Harvey T. Hoekstra and Dr. Ron Beery. They both came to see the possibilities to start the audio ministry in India. After this I met them 3 times. In one of his visits, Dr. Hoekstra told me that in all his three visits to India, the Lord had shown me only to him and asked me whether I would be willing to take the responsibility to start the audio ministry in India. I prayed and accepted to start the audio ministry in India. We both made a covenant in the presence of God at a hotel room on 19 October 1979 (Copy is attached). It was the humble beginning of WCOI. I started the ministry with one cassette player and 4 cassettes."
What has been the greatest change you've seen in the ministry of ASM?
"By faith we started WCOI in Madurai, Tamil Nadu in 1980. Mr. Tom Van Wynen came to Madurai with his wife and helped us to set up a small studio in in our home. We started the recording of the New Testament in Tamil and some tract messages and distributed them to non readers in our church.
In the year 1982, we as a family moved to Bangalore. We registered the WCOI as a Society. The same year we imported components of the cassette players from Gospel Recordings Australia, and assembled it at Katpadi Industrial Institute. God enabled us to assemble 5000 Nos. Hand wind cassette players.
In the year 1983, we converted the garage of our rented home as a recording studio and started recording the New Testament in other Indian languages.
Every year we used to conduct Seminars on cassette ministry and published technical tips once in three months to the people who were using the players and NT cassettes. We got the resource persons for these seminars from PRMI and they also helped us in the publications of the technical tips.
First we distributed one set of NT cassettes along with a cassette player to each village through Adopt A Village Project. We reached 15000 villages through these Project. We distributed players to 500 tribal villages. About 2000 people came to know about Lord Jesus Christ from these villages and Churches were being planted in these villages.
After importing the components for 5000 players, we had started to make indigenous players in India. We started reaching the families by providing a cassette player and a set of NT cassettes in their heart language to the selected families through "Word for the Family" Project. God enable us to distribute more than 30000 audio scriptures through this project.
Since 2005 we started using the Mega Voice players for our distribution. Now by God's grace we are distributing thousands of Mega Voice players.  God has enabled us to record the Scripture in more than 95 Indian language.  The recording and the distribution has been the on going project of WCOI.  There are 200 more translated scripture in various Indian languages are waiting to be recorded.  We are thankful for ASM for their faithful support to WCOI to get the players and to record the audio Scripture.  I want to record our heartfelt gratitude to them for their help in our building project and in the upgrading of our recording studio."
What impact do audio Bibles have on the recipients?
"From the beginning we are seeing the fruits in the ministry of WCOI.  The audio Scripture is doing amazing things among the people.  Many have accepted Jesus as their own Lord and Saviour, many Churches are being planted.  The lives of the individuals are being changed. Believers are strengthened in their faith. Partnerships are being built.  A humble tool of Audio Scripture is doing great things for the glory of God."
What do you believe the future holds in the "next 50 years"?
"We hope that the relationship of WCOI and ASM will continue for many more years for the extension of His Kingdom.  We are thankful for the support, encouragement and help in the time of need by ASM for the past 40 years."
What message would you have for ASM supporters about this ministry?
"My humble request to all the Partners and Donors of ASM is to continue to support the ministry of WCOI.  We will join together and work for the glory of our Lord Jesus Christ in India, Nepal and Srilanka.  I praise God for our partnership with ASM for the last 40 years.  May the Lord help ASM to continue to be a blessing for many more in the next 50 years if the Lord's coming tarries."